Poetry Slam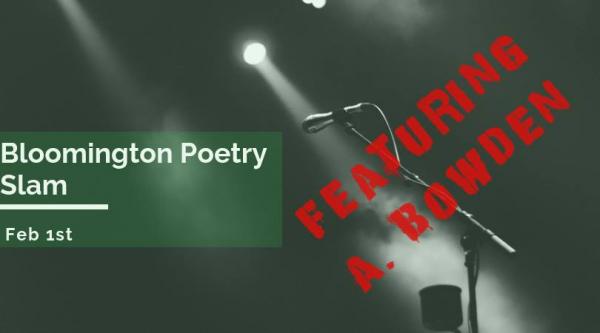 Friday, February 1st
8:30pm
Join your local wordsmiths for a night of poetry, libations, and passion! The night will begin with an open mic featuring local artists, singers, and writers, and end with a poetry slam.
February is BLACK HISTORY MONTH! This means that we will have a special guest host joining Andrea on stage--the phenomenal Joseph Harris! You may remember him from slaying the stage and making us feel all the feels as the featured poet in January.
While the open mic and slam are open to all, we will be prioritizing Black voices in honor of Black History Month. This will come into play only if we have a full open mic and slam list, so still feel free to sign up to perform!
Sign up by commenting below, sending a direct message, or emailing bloomingtonpoetryslam@gmail.com
This month's feature is local multimedia artist A. Bowden! A. Bowden is a conceptual artist that lives in Bloomington, IN. They believe in generational curses, arts and crafts, and slow movers. Come support local Black talent this month.
For complete rules, click here: https://www.facebook.com/notes/bloomington-slam-poetry/2018-2019-bloomin...