Participate in the visual-album, NOA: A Story of Human Tides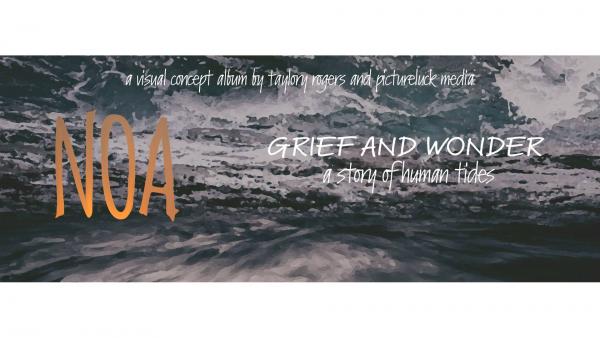 Friday, December 8th
8:00pm
Cover optional // by donation, or just bring yourself!
A unique event designed to enlist the talents of our communities in the creation of NOA, a visual concept album about grief and joy, love and loss, and the mysterious wonder of navigating shadows, with music by Taylor Rogers and cinematography by Lillian Walker (pictureluck media.) In short, this project utilizes spoken word, dance, storytelling, and heavy handed metaphors about ocean tides to explore human depths. Our hope is that this evening will provide folks a first-hand experience of what NOA is all about.
As we prepare to release our kickstarter campaign, we want to bring the project's major concepts into a real space, engaging attendies in different forms of improvised expression. We will explore our inner worlds through writing, movement, and group vocals. We have some amazing facilitators lined up who are passionate and experienced in their own art to help us uncover some new layers. And these amazing individuals will also be contributing their talent by way of short performances following each workshop.
In other words, there will be feels.
And so, this event is a chance to get famous! Just kidding, but it IS a chance to contribute significantly to the making of NOA. We will be collecting the writings of participants (on a voluntary basis, of course) to be bound into handmade journals that will feature in part of the film, as well as having a few performed as spoken word for the film itself (with the permission of the writers, also of course). Additionally, we will be recording the sound of our voices merging together, which we also hope to use in the film. Anchors away!
Program:
7:00 pm, doors by the Bishop (thanks!)
7:30 pm, brief presentation on NOA by Taylor and Lilly
8:00 pm, writing prompt lead by Beth Lodge-Rigal from Women Writing for (a) Change-Bloomington!!!!
8:30 pm, movement improv lead by Regina Sweet!!!!
9:00 pm, group vocal improv lead by the incomperable Travis Puntarelli and Fallyn McLeod, feat. baby Quill!!!!
For a sneak peak of what we're up to in this whole endeavor, check out https://www.youtube.com/watch?v=beFay2UwHxM
See you there!